Media Localisation
to all-size clients
Everything you need to make your content intelligible to cultures worldwide. Our strengths lie in the great relationship we have with our local teams and partners worldwide and in our commitment to understanding every single need of our clients. With transparency and dedication, we can create the perfect match between our client and our local partner. Clients of all sizes rely on our expertise to provide the best experience to their target audiences.
CONQUER NEW MARKETS
corporate videos, e-learning, lectures, films, TV series etc.
Localisation is much more than translating your content to another language. It is to make it intelligible to a whole different culture so that the target audience in the new market can experience the content in the same way as the original language target audience.
Subtitling
Subtitling is the work of telling a story with constrictions. It may involve translation or can be done in the same language spoken in the original content. In both cases, subtitles are a more summarised type of text synchronised to the audio to enable a perfect understanding of the video for viewers who can listen but don't understand the original language or choose to watch the content in mute mode. It is a challenge we proudly defeat.
Translation for dubbing
It is the creative and technical challenge of translating a script into a new language so that actors can bring it to life in the studio later on. It is the art of thinking translation to match lip-sync, a work that may make or break a project in any market. We know what it takes and how to make it happen.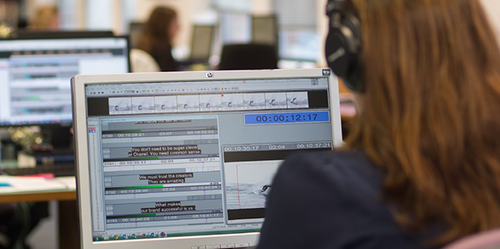 Localisation is an excellent tool for reaching a broader audience
and content retention, improved video discovery, viewer engagement, SEO, and ROI improvement.
Subtitle hardcoding
When there is the need for the subtitles to be on screen all the time or when you have very specific style formatting needs, we embed them on the video. It is technical work that can be very tricky and time-consuming. We have the know-how.
Transcreation
If context matters, emotions, intention, and tone do also, and sometimes it takes way more than translation to reach out and resonate. Skills and creativity are key, and we know how far we can take you.
Media access services
Not everybody experiences media content and communication in the same way. Billions of people have some sort of impairing condition. Accessibility services not only broaden your audience and improve ROI but bring inclusion, equality, and a sense of community. We make sure there is no one left out by minding the gap.
All Things Translation
Language services have a wide scope, and sometimes you need professional help to decipher which service best fits your project. Whatever your needs are, we make it happen.
Let's work together
on your next project.
Whatever your needs are, we'll customise the process to make it happen.
Your internationalisation starts here.